2018
2018 Ferrari-Carano Pinot Noir, Anderson Valley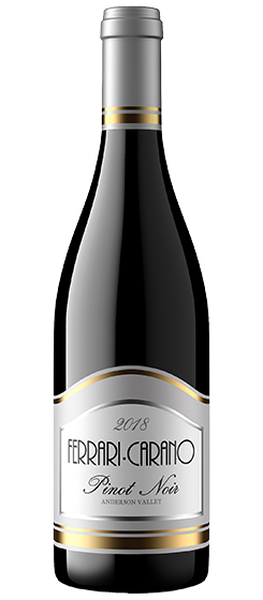 2018
2018 Ferrari-Carano Pinot Noir, Anderson Valley
Aromas of ripe cherry, cola, dark currant and baking spices fill the senses, followed by vibrant flavors of juicy plum, black cherry and cardamom. A velvety texture and bright acidity distinguish this naturally-balanced wine.
Food that pairs well with this wine.
Looking for a great recipe to pair with this wine? Here are a couple of delicious dishes from the Foley Food and Wine Society.
This wine pairs perfectly with salmon, fowl and meat entrees like beef bourguignon or rack of lamb. During the holidays, pair our Pinot Noir with an herb -roasted turkey, gravy and cranberry sauce dinner, or other dishes like a fall harvest salad with butternut squash, pumpkin seeds, pecans and greens, sweet potatoes with walnuts, bread stuffing with herbs, sage, wild rice and giblet s, and even roasted goose.
View all recipes
Aging
100% French oak, 20% new
Bottling Date
August 2019