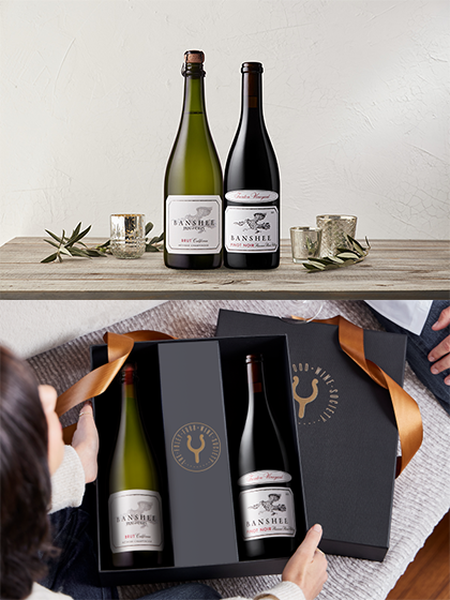 Feeling festive? Your favorite entertainer will love our Banshee Duo gift set: a quintessential cool climate Russian River Valley Pinot Noir that is bright yet full bodied, and a vibrant and aromatic sparkling wine for celebrations both big and small.

2021 Banshee Trenton Vineyard Pinot Noir, Russian River Valley
93 | Jeb Dunnock

Banshee Ten of Cups Brut, California
91 | Wine Enthusiast
91 | Wine & Spirits

$130 – (or 650 Loyalty Points + $65.00) Gift set in gift box. *Ribbon not included.
This gift set includes two 750 mL bottles, packaged in a gift box. Our eco-conscious packaging is thoughtfully designed to reflect our commitment to sustainable practices, the preservation of our beautiful vineyards, and a better tomorrow.
For assistance on corporate or large orders, please contact our Corporate Services Concierge team at concierge@foleyfoodandwinesociety.com or 855-883-8688.