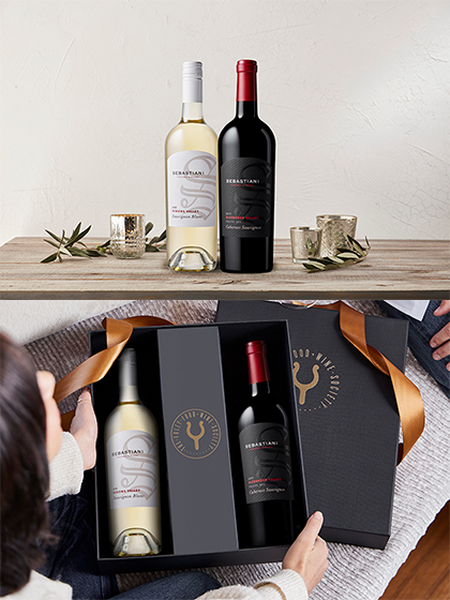 Sebastiani Duo in Gift Box
A perfect pairing for every occasion and every taste, Sebastiani's bright and refreshing Sauvignon blanc makes an excellent apertif or pairs with lighter fare, while the deeper boysenberry, plum and black cherry of our terroir-driven Cabernet will elevate any dinner.
2021 Sebastiani Sauvignon Blanc
2019 Sebastiani Gravel Bed Cabernet Sauvignon
91 | Wine Enthusiast
$125 - (or 625 Loyalty Points + $62.50) Gift set in gift box. *Ribbon not included.

This gift set includes two 750 mL bottles, packaged in a gift box. Our eco-conscious packaging is thoughtfully designed to reflect our commitment to sustainable practices, the preservation of our beautiful vineyards, and a better tomorrow.

For assistance on corporate or large orders, please contact our Corporate Services Concierge team at concierge@foleyfoodandwinesociety.com or 855-883-8688.